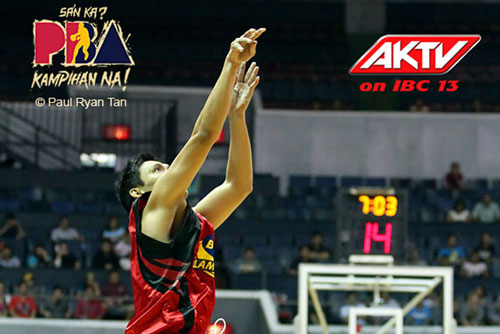 Peter June Simon was at the right place at the right time, scoring a putback off a broken play with 2.5 seconds left to lift the B-MEG Llamados to a tense 74-72 win over the Barangay Ginebra Kings at the SMART-Araneta Coliseum on Friday night.
The victory sealed a second straight championship berth for the Llamados, as they face the Rain or Shine Elasto Painters in the Governors' Cup finals that begins on Sunday.
Simon came from the weak side, tipped the ball in off a missed jumper from import Marqus Blakely.
Ginebra had one last shot, but Kerby Raymundo missed a three-pointer at the buzzer that would have won the game.
"I drew it all up," joked B-MEG coach Tim Cone moments after the victory. "I called a play for Marqus to throw up a shot and PJ to come from the weak side to put it back in.
"But really, it was pure luck."
Turning serious, Cone said he is looking forward to being in a series again.
"I'm glad the semis is over. We were looking forward to advancing because playing in this single-round semifinals is really difficult. You only have a day to adjust and you're facing different opponents.
"At least in the finals, it's going to be a seven-game series. You have time to figure out your opponent and make some necessary adjustments."
As expected, the do-or-die match was a tightly-fought encounter. Until the final moments of the game, B-MEG was teetering on the brink of defeat.
KG Canaleta hit a game-tying three-pointer, with 1:58 left that leveled the count at 72-all. That shot was made from deep corner with only two seconds left on the shot clock.
It was a shot that came off a broken play, a crucial play which was contested by Cone because.
"In my 23 years of coaching in the PBA, it's the first time I've heard of a rule that a player should have control of the ball first before the clock ticks," said Cone. "All I know is that once a player receives the ball, the second start ticking. KG took a few seconds before getting the shot off."
The scores:
B-MEG 74 – Blakely 22, Yap 16, Simon 11, De Ocampo 8, Pingris 7, Barroca 5, Urbiztondo 3, Reavis 2, Villanueva 0.
Ginebra 72 – Bozeman 27, Caguioa 14, Canaleta 9, Raymundo 7, Hatfield 6, Villanueva 3, Ababou 2, W. Wilson 2, Helterbrand 2, Maierhofer 0, Mamaril 0, Cortez 0.
Quarters: 23-19, 41-36, 58-57, 74-72.
Source: Reynaldo Belen, InterAKTV