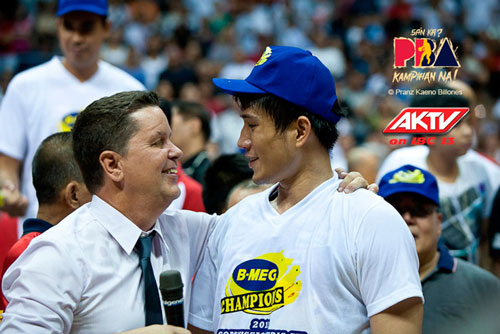 B-MEG Llamados coach Tim Cone is a television buff. While he admits he hasn't gotten around to watching the latest season of the Emmy-award winning series Mad Men, he seems to have picked up a thing or two from the show's protagonist, Don Draper.
"Happiness is that moment before you need more happiness," Draper says in Season Five's penultimate episode. The same sentiment could easily apply to Cone and his team's quest to win back-to-back titles.
The Llamados are only three months removed from their title run in the Commissioner's Cup, while the Rain or Shine Elasto Painters are in their first finals series in franchise history.
But when the ball tips off in their Governors' Cup best-of-seven title series on Sunday, B-MEG coach Tim Cone says Rain or Shine won't have an edge when it comes to desire.
"This team is still hungry," said Cone about the Llamados. "Once you get a taste of something good, you want more of it, and that applies to my team. This team is still hungry for another championship."
But the road to glory wouldn't be easy for B-MEG. The team lost both of its meetings against Rain or Shine this conference, with the Elasto Painters delivering a 92-82 beatdown of the Llamados just last Wednesday.
Even Cone admits that they're in for a tough matchup against Rain or Shine. He is particularly wary of import Jamelle Cornley, who size makes him a handful for the Llamados.
"Cornley is just so big. (Marc Pingris) is a great defender, but he's probably giving up 40 pounds to Cornley. Reavis is great, but he's probably giving up 50 pounds," said Cone.
He also noted the Elasto Painters armada of rugged, physical guards such as Paul Lee and Ryan Arana, who could cause matchup problems for the Llamados whose backcourt rotation has been decimated by the absence of JC Intal and Joe Devance, big players who could play guard in Cone's offense.
"But we'll figure something out," he said. "That's the good thing about a seven-game series. You have time to adjust and experiment and figure things out."
Source: Jaemark Tordecilla, InterAKTV